Word Search Games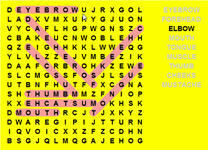 On this page you can find a variety of word search games. For each game you have to highlight groups of letters in order to find given vocabulary words. Words can be found spelled horizontally, vertically, diagonally, forward, or backward. To highlight the words, simply click and drag over different groups of letters found in the puzzle.
Click on the following links to see the games.
Return from the Word Search Games page to the ESL Games webpage.